SOUTH LOOP  —  Arron Muhammad, known as Mr. T.N.T. in the fitness world, swears he eats plates of his signature beignets all the time.
"People find it hard to believe that I sell pralines and beignets for a living," joked Muhammad, a 61-year-old award-winning personal trainer who previously coached Steve Harvey during his time in Chicago. "I eat them, and bread pudding, too!"
Wedged between his morning and afternoon fitness sessions with clients, Muhammad runs Akhirah's Praline Candy, Beignets and Coffee at 1845 S. State, a New Orleans-inspired coffee shop and bakery decorated with cappuccino-colored walls, Mardi Gras beads and feathered masks tucked away in the South Loop.
"People at the health club, the body builders and the bikers who have known me for the last 20 years as this fitness guru are all like, 'Damn! What happened to Muhammad?'" he remembered of the shock when he opened Akhirah's in September 2016. "'Did he go crazy on praline candy and bread pudding?'"
Everything in life, he assures, is about balance.
"Sometimes I'm in my praline candy mode, and sometimes I'm in my fitness mode. I transition back and forth daily," he said of his contrarian love for fitness and his Southern-inspired sweets, like his Louisiana crunch cake, and Chicago delights, like creamy bean pie.
During the midday, Muhammad checks invoices and oversees the counter in a tight muscle tee while humming to the music of jazz soloist Sidney Bechet. His shop smells like hot dough, sugar and freshly brewed coffee.
The past two years, have been a balancing act between barbells and beignets for the Chicago-born and -bred entrepreneur.
"I create businesses and jobs because everyone knows that I don't punch a clock!" he said.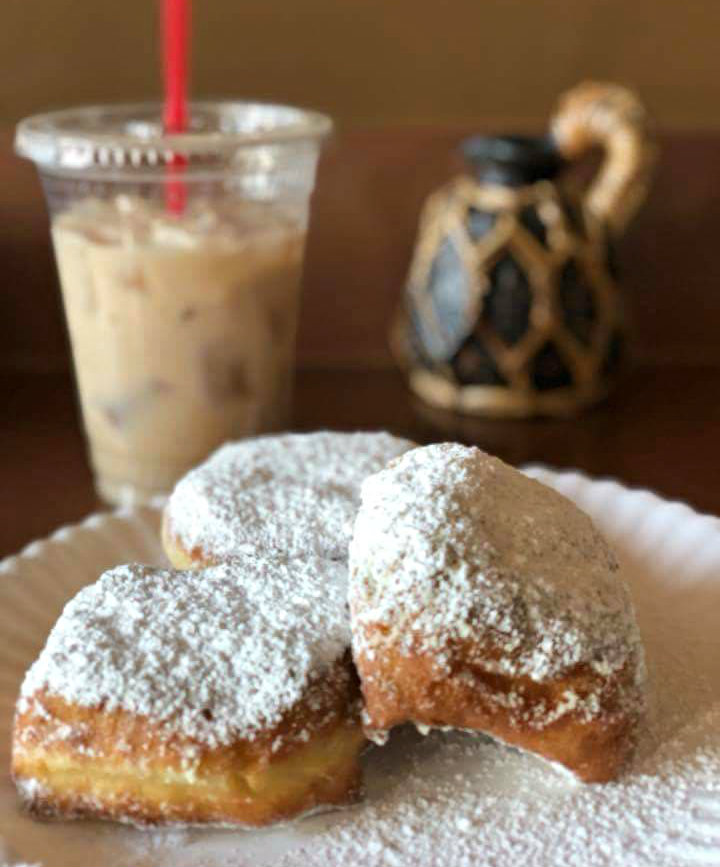 Creating jobs is a moral imperative, he believes. Currently, four employees plus family members are working at Akhirah's.
This West Side native is part of a growing number of black-owned coffee shops across the city. Akhirah's is listed as one of 14 black-owned coffee shops in Chicago, according to TheBlackMall.com, an online business directory.
Following the arrest of two black men, Donte Robinson and Rashon Nelson, in a Philadelphia Starbucks on April 12, Muhammad wants Chicagoans to reflect on where they spend their dollars for a daily cup of coffee.
"The profiling that happened in Starbucks [in Philadelphia] is not a new for black people," Muhammad said. "We need any and everyone to support black business, especially coffee shops."
Muhammad tries to do his own part to support local black businesses and mentor black business owners, like bean pie purveyor Quinshedrick Muhammad of 1st Fruit Bakery.
He orders his signature Akhirah's coffee blends from Stivers Coffee Roasting Company in Chinatown, the only black-owned coffee roaster citywide. Greg Stivers, who supplies Akhirah's with handcrafted blends that include a chicory-flavored french roast and a pralines and creme variety, has been in the roasting business for some 30 years.
Muhammad stands out among Stivers' stable of clients, he said. 
"Chicory is a southern thing in New Orleans and Louisiana but Arron's taking a chance on it here in Chicago. He's a man full of integrity who's willing to take risks," Stivers said of their relationship.
Entrepreneurship became a way of life for Muhammad when he lost his job in 1981. After growing up in Chicago Housing Authority's ABLA Homes on the Near West Side, he said it was tough to be unemployed in the early 1980s, especially with limited resources. 
"At first entrepreneurship was just about surviving and fulfilling my duty to provide for my family," he said. "Then I came to love the freedom of running your own business and actually creating jobs."
Muhammad launched his first business truck farming, a skill he scooped up during summers spent in Louisiana and Arkansas as a child.
"You go through neighborhoods, blowing your truck horn, knocking on doors and waking people up in the morning with a bunch of produce in your truck," Muhammad joked.
Next, he took to selling fruit bags. Each morning he would sell 300 bags full of bananas, apples, oranges and raisins to the bustling commuter crowds on corners like Lake and Austin, 31st and Indiana and 79th and Stony Island. Eventually, Muhammad expanded and opened Your Produce Market in 1989, a black-owned and operated produce market and health food store that closed in 1998.
At 42 years old, Muhammad switched his focus to fitness. In less than a years time, he started a new career in fitness as a personal trainer where he won the Bally Total Fitness Personal Trainer of the Year in 2002 and 2003, eventually opening his own business, Top Notch Training.
Muhammad said it feels natural that he got into the sweets business.
"I was standing in line down at Garrett Popcorn on Michigan Avenue and I thought, 'What in the world can I create, as simple as popcorn and get this kind of demand?'"
Muhammad and his wife, Amy Muhammad, a New Orleans native, settled on bringing a bit of the Big Easy to the city after a trip to a New Orleans bodybuilding competition. The menu is simple and Southern, full of sweets like peach cobbler and pralines, a buttery chew half way between a hard candy and a caramel in consistency studded with cashews and pecans.
The house special is a plate of three pillow-shaped beignets, moist and fluffy on the inside with a crispy exterior coated with a fresh snow of powdered sugar, served hot from the fryer like customers would find in Louisiana.
"Beignets aren't something that is supposed to sit behind a counter like donuts — they are born fresh," he said.
Muhammad and Amy, who is a pastry chef, debated using a 50-pound bulk bag of Cafe Du Monde mix after a visit to the New Orleans institution. After a side-by-side taste test in their Chicago kitchen, the results were clear.
"It was like a homemade cake next to a box cake," Muhammad said. "Amy can bake anything you ask for so I wasn't surprised hers were better."
Muhammad hopes his newest business will stay in the family. The doe-eyed miniature chef stirring a pot on his tangerine and white sign is the namesake, his 13-year-old daughter, Akhirah Muhammad, the youngest of his seven children.
"She's a little embarrassed by the sign now, but I'm hoping down the road she comes around to see the power of being a black business owner," Muhammad said.