AUBURN GRESHAM — With the help of professional actors from the Congo Square Theatre drama club, members of Hansberry College Prep opened the spring recital with a special performance earlier this month. 

The June 2nd performance was the culminating event of Congo Square's 10-week residency at Hansberry College Prep, 8748 S. Aberdeen St.
The Noble charter school's drama club members learned performance art basics from Congo Square Theatre lead teaching artist Andi Earles and co-teacher, Shonee Muse, on Wednesdays after school. The group of 10 students has been meeting since February. 
For the June performance, titled "ICONIC," Hansberry College Prep actors created a show inspired by the auditions from "American Idol." After making flamboyant introductions, the contestants bared their souls to the crowd. 

"I use drama to teach English literature and to introduce theater to kids especially to those who really haven't experienced theater before," Earles said.

Teens came into the program with differing degrees of experience in performance arts, Earles said. In an effort to encourage the teens to participate in acting exercises, she shared that she sometimes still contends with stage fright.

"It's great to see the trajectory of the students; they get into it and lead the warmups, they want bigger parts and they're ready to write their own stuff. Some are comfortable being up there," she said. "Some kids don't like it at all. They don't want to move from their block. Some kids are really terrified and it is a really terrifying thing to speak in front of group of people, but it's always successful, at the end there's always success."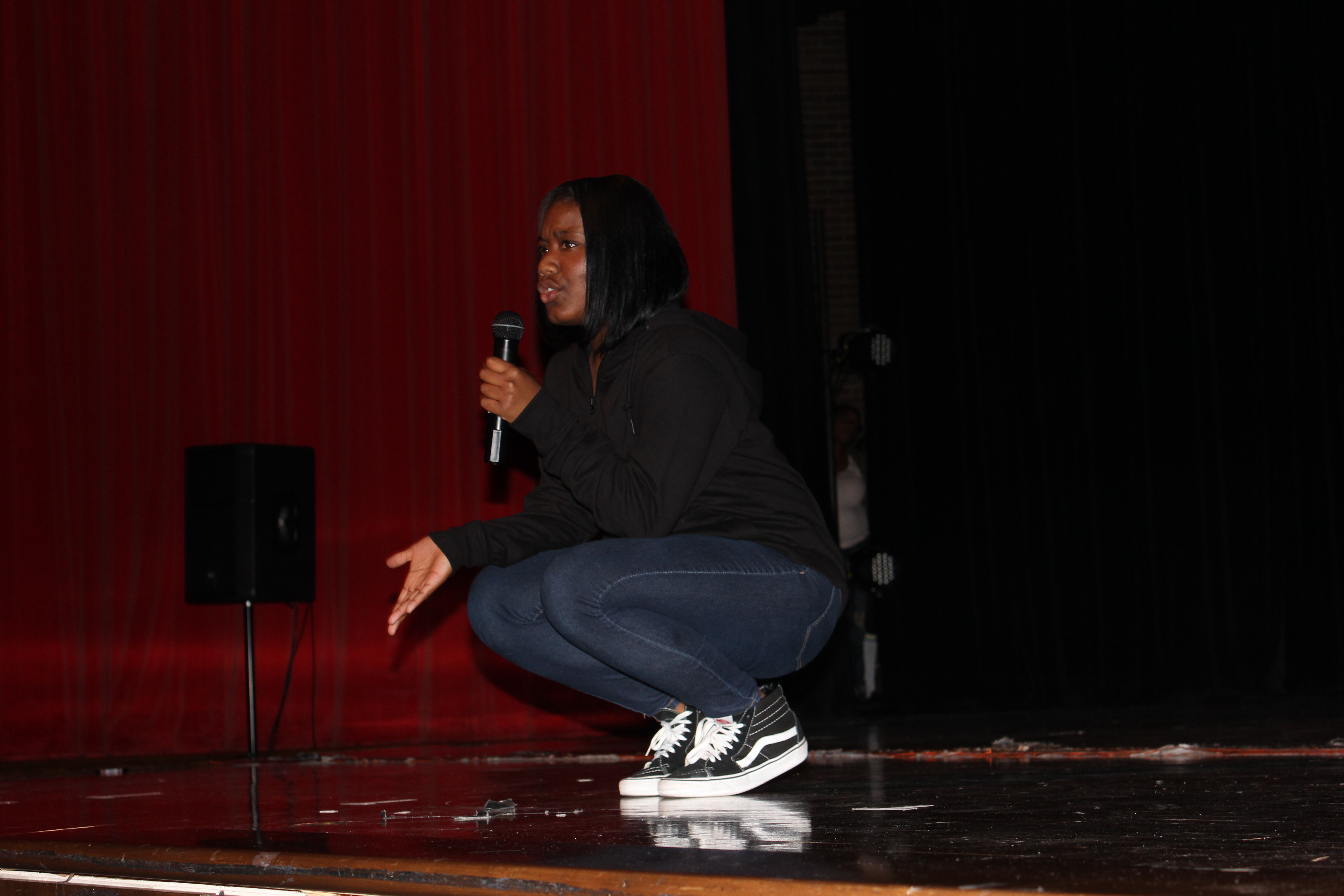 This past school year is the first year Congo Square hosted an after-school program at Hansberry College Prep. The program was made possible by a grant Noble received to bring an new program to the school, according to Chanelle Bell, a community and government organizer with Noble charter schools. 
Lamitra Cotman, a special education teacher and drama club director at Hansberry, said the it has meant a lot to students to work with the Congo Square actors. 
"I was excited for the kids but I was also excited for myself," said Cotman, an actress in her own right. "I haven't had the opportunity to really work with any theater artists in Chicago, so it was really cool to see the perspectives they were bringing to the table."

Roxanna Conner, education coordinator at Congo Square, said after-school programs have been a staple of their education program for five years. Before working with Hansberry, Congo Square hosted summer camps and classes at Urban Prep Academy's Englewood campus.
The idea to launch an after-school program came from one of their late ensemble members, Samuel Roberson Jr., who died last spring. 
The afterschool programs are funded with support from Polk Bros. Foundation and Lloyd A. Fry Foundation.
Congo Square Theatre hopes to add another school to the program next year, leaders said. 
People interested in getting involved with Congo Square Theatre's after-school program can email education@congosquaretheatre.org.