DOWNTOWN — Chicago Police Supt. Eddie Johnson told lawyers asking him about a police-involved shooting that he's not sure what the "code of silence" means.
Johnson spoke during a deposition as part of wrongful death lawsuits over the shootings of Bettie Jones and Quintonio LeGrier. Mayor Rahm Emanuel was also deposed, telling attorneys he stood by a speech where he acknowledged a code of silence in the Chicago Police Department.
Jones and LeGrier were killed in December 2015 in a controversial police-involved shooting. Jones was 55 and LeGrier 19. The city settled with Jones' estate for $16 million this week, according to the Sun-Times. Jury selection for the lawsuit over LeGrier's death begins this week.
Transcripts from the depositions were released Friday. Here are four things we found in them:
1. Code of Silence
Johnson said he has heard of the term "code of silence," a phrase which is often used to describe police officers shielding each other from consequences of possible misconduct. But he also said he hasn't heard officers "talking about … code of silence" and doesn't "know of any police officers being trained on code of silence."
"Again, in my personal experience, I'm not sure what code of silence means," Johnson said.
Emanuel has previously said the code of silence exists in the Chicago Police Department; but when Johnson was asked if he disagreed with that, he said he couldn't "speak to why the mayor made that statement."
During his own deposition, Emanuel was also asked about the code of silence and said "there are a few bad apples" but that in multiple professions "there's a kneejerk reaction to protect a colleague rather than accept the standards that we're all trained to uphold and the rules and responsibilities to uphold."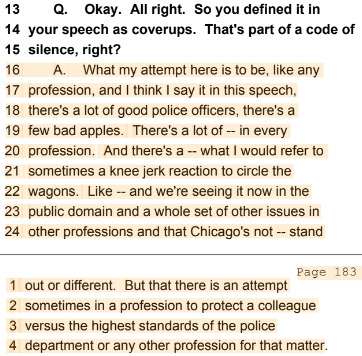 Asked if it was wrong for officers to lie and protect other officers from investigations into possible misconduct, Johnson said, "Yes, it would be improper for a police officer to lie, to cover up or protect a police officer from misconduct that they're aware of."
2. Johnson, Emanuel Hadn't Talked About Deaths
Johnson told lawyers he hadn't spoken to Emanuel about the deaths of LeGrier and Jones as of the time of the deposition.
The superintendent also said he hadn't spoken to Emanuel about the investigations into the deaths of LeGrier and Jones, nor had they talked about the lawsuit that resulted.
3. Johnson Didn't Follow Media Coverage Of Police-Involved Shootings
When asked if Johnson had followed reports in the news about the police-involved shootings, the superintendent said he had "seen some things."
But Johnson said he hadn't actively followed the case in the newspapers, and the only thing he could recall learning from reports was the name of LeGrier's mother, Janet Cooksey.
"I've never followed the case in print media," Johnson said. "I have — trust me, I have enough things to do than to follow what the media is printing in the paper."
At another point, Johnson told attorneys, "So, I don't typically follow the media with things of this nature because just because the media puts it out there doesn't mean it's factual."

4. Who Spoke To The Jones, LeGrier Families
Emanuel told lawyers he reached out to LeGrier's parents after the teen was killed, helping out both LeGrier's mother and father. Lawyers asked if Emanuel had helped LeGrier's father, Antonio LeGrier, set up a jobs program.
"Let me say this. My attempt, when I meet with families, is to more to let them know in a moment of loneliness that they're not alone," Emanuel said. "If a family member asks me to do something, I try to do it.
"… So I don't remember [helping Antonio LeGrier] specifically. But I would not be out of — inconsistent with other things I've done."
Johnson said he hadn't met or spoken with the families of LeGrier or Jones, though Jones' daughters spoke publicly at a Police Board hearing Johnson attended.