BELMONT-CRAGIN —  After discovering that more than 80 percent of their classmates throw their lunch in the trash every day, a group of student chefs at Prosser Career Academy on the Northwest Side knew they had to do something about it.
This weekend, they found themselves in the nation's capital competing with young chefs across the country with one goal: to create healthy, sustainable and cheap meals that schools can serve to students.
The Cooking Up Change competition took place on June 11 in Washington, D.C. The national culinary cook-off brought teams from Boston, Dallas, Houston, Orange County, Chicago and Troy, Alabama, face-to-face to compete with healthy, low-budget school lunch menus with no added salt or sugar at a cost less than $1.40.
Prosser didn't win. Orange County and Houston took first place and second place. But the loss didn't break the seven-student culinary team's spirit. They had their eyes on another prize: lobbying members of Congress to support their dream to be a pilot "school garden-to-lunch tray" culinary program and school, according to Prosser staff.
"Prosser students are always the underdog in the national competition," said David Kulasik, the chief instructor of the Prosser Culinary Art Program. "These students are dealing with a lot of challenges that Chicago throws at them."
One in five children in Cook County struggle to access healthy food and are at risk of hunger, according to a Map The Meal Gap 2014 study.
Prosser student chefs won the local Chicago competition last November. The winning meal was served to 380,000 Chicago Public School students during the spring. Prosser's Spanish-inspired menu included arroz con pollo tazón (a rice and chicken dish) served with caramelized zanahorias rostizadas (roasted carrot) relish, and a cinnamon-dusted baked pear crisp with a dollop of tart yogurt on top.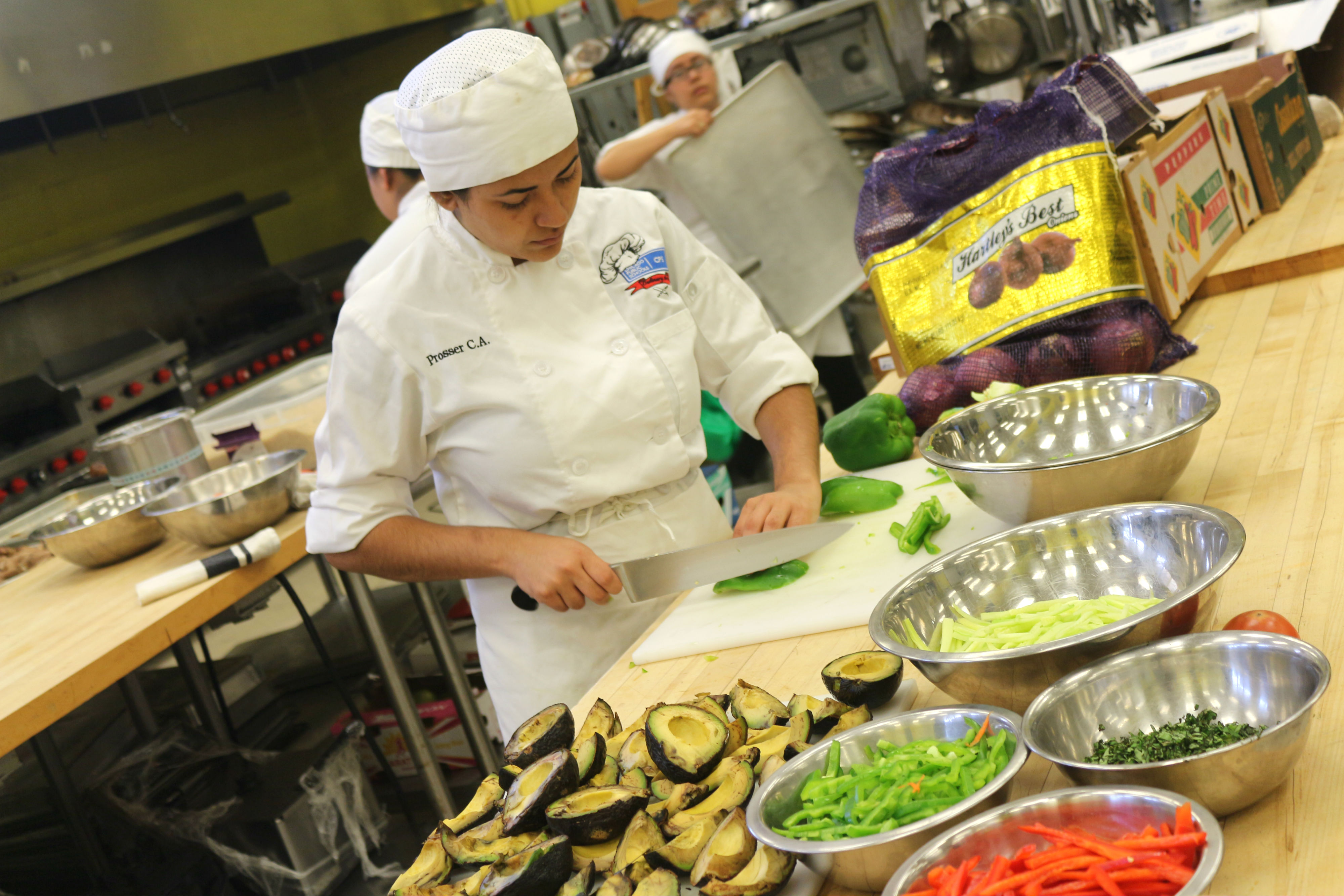 "Everyone's favorite is the pear crisp — it's gooey, sweet, crunchy and caramel-y. It almost doesn't taste healthy, but it is. That's our vibe: healthy delicious," said senior Jasalyne Garcia.
The contest hit home. The team wants to cut down on Prosser's food waste, which students think is tied to a disconnect between what is served and what students actually want to eat.
Prosser student chefs say they have the data to back  up that claim. A student-conducted survey in fall 2017 found that 86 percent of Prosser students surveyed throw out their lunch. Forty percent of those student who do eat the school lunch said they only eat the fruit.
"The real win of this trip will be if we can secure funds for our garden to really make this school farm-to-table," Kulasik said. "It's crazy to me that there is a kitchen full of students who want to cook and serve fresh food to their fellow students from a garden just outside, and they can't do it on a larger scale."
Students are frustrated that instead of using fresh vegetables they grow themselves, their cafeteria food comes from food giant Aramark.
Students met Sen. Dick Durbin and staff from both Sen. Tammy Duckworth and Rep. Luis Gutiérrez offices. They asked for support to become a Chicago Public Schools pilot program for Eat What You Grow, a supplemental lunch program to feed all students meals created from community garden produce, according to Lindsey Richards, Prosser Career and Technical Education coordinator and department chair.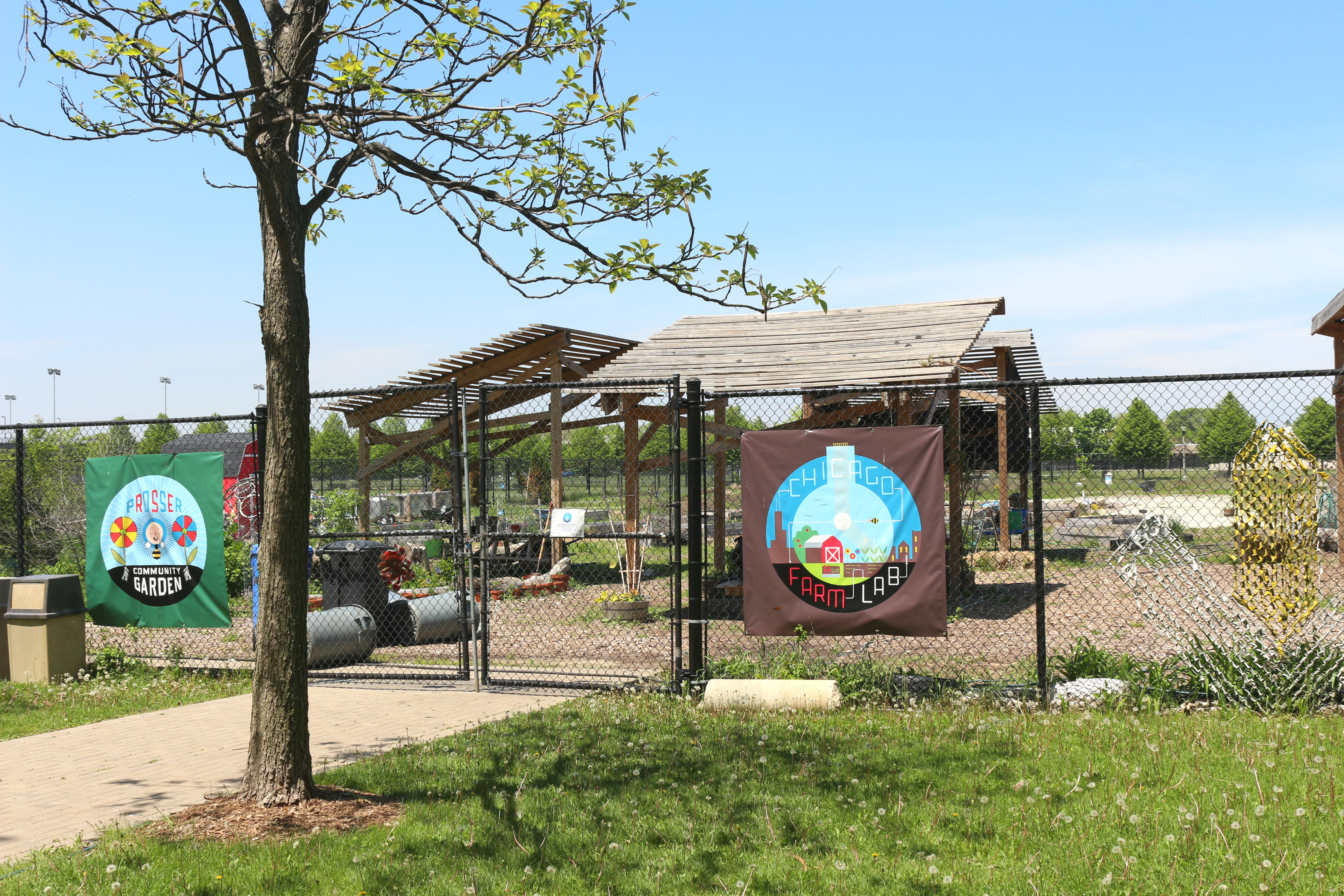 Congressional staff encouraged Prosser students and staff to develop more plans on the transition.
"Our dream is to leave a legacy for the incoming students to have culinary class be a part of the cafeteria whether one day a month or a week where we take our garden vegetables and we do a salad bar or a dish where we get the students interested in urban farming and farm-to-table," Kulasik said.
More than 400 CPS schools have a school garden and are eligible for the Eat What You Grow program, according to CPS.
Prosser staff have been told there are about seven school gardens citywide large enough to supplement student lunches with garden-grown produce, Richards said.
"It was amazing to see these students compete in a national competition then transition into mini-lobbyists walking the halls of Congress asking powerful people to listen to their ideas about how food should be prepared," Richards said. "Senator Durbin was shocked that we had have actual chickens and beehives, you know, a fully functioning urban garden."
The trip to Washington, D.C., was a first for most of the students.
"Seeing our senators makes me realize how important cooking is to me and how everyone else should view healthy eating," said senior Jeremiah Tate. "I will never forget this moment in my life."
Rather than have adults speak for them and promote their vision, students felt they were their own best ambassadors for the trip.
"We know what teens want to eat because we are teens. It's not just junk food; there's a way to make healthy food appealing to us, but you have to know what we like," Garcia said.
Prosser Career Academy's culinary program has 93 student chefs who are already familiar with using fresh produce from the garden. Marnie Ware, the creator of the garden and a science teacher at Prosser, said she gained permission from Chicago Public Schools to use the site as a school garden in November of 2013.
Ware said the relationship between the garden and Chef Kulasik's kitchen classroom is one of the best things about Prosser. Their first collaboration was in October 2014, when she planted sweet potato seedlings with biology students in the spring and harvested them in late October. Kulasik invited second graders from Jorge Prieto Elementary School over for lunch and his students made vegetarian roasted sweet potato burritos while biology students made a presentation on their experiments with sweet potatoes.
The moment was a model of how food should function in a Chicago school, Ware said.
"The really beautiful thing about this was that older students were the teachers for younger students, and we adults got to step back," Ware said. "The students had center stage, plus the meal was incredible."
This type of collaboration has happened before. Recently her students grew and harvested a crop of tri-colored corn and invited their families to help grind it in their molinas. Student chefs then made cornmeal muffins with the grain, and they were the "most delicious" corn muffins ever, Ware said.
Ware said Prosser staff and students have strong feelings about the garden and its potential as a healing space in the school and community.
"It is disgraceful that we treat our children so poorly as a society, and if the government can't do it, then I wish they would allow people in the schools themselves to try," Ware said.
"I wish they would give us funding, and then get out of our way so that we can begin to model ways to heal this broken system in schools like ours that have the know-how, desire and the guts to try to do it."