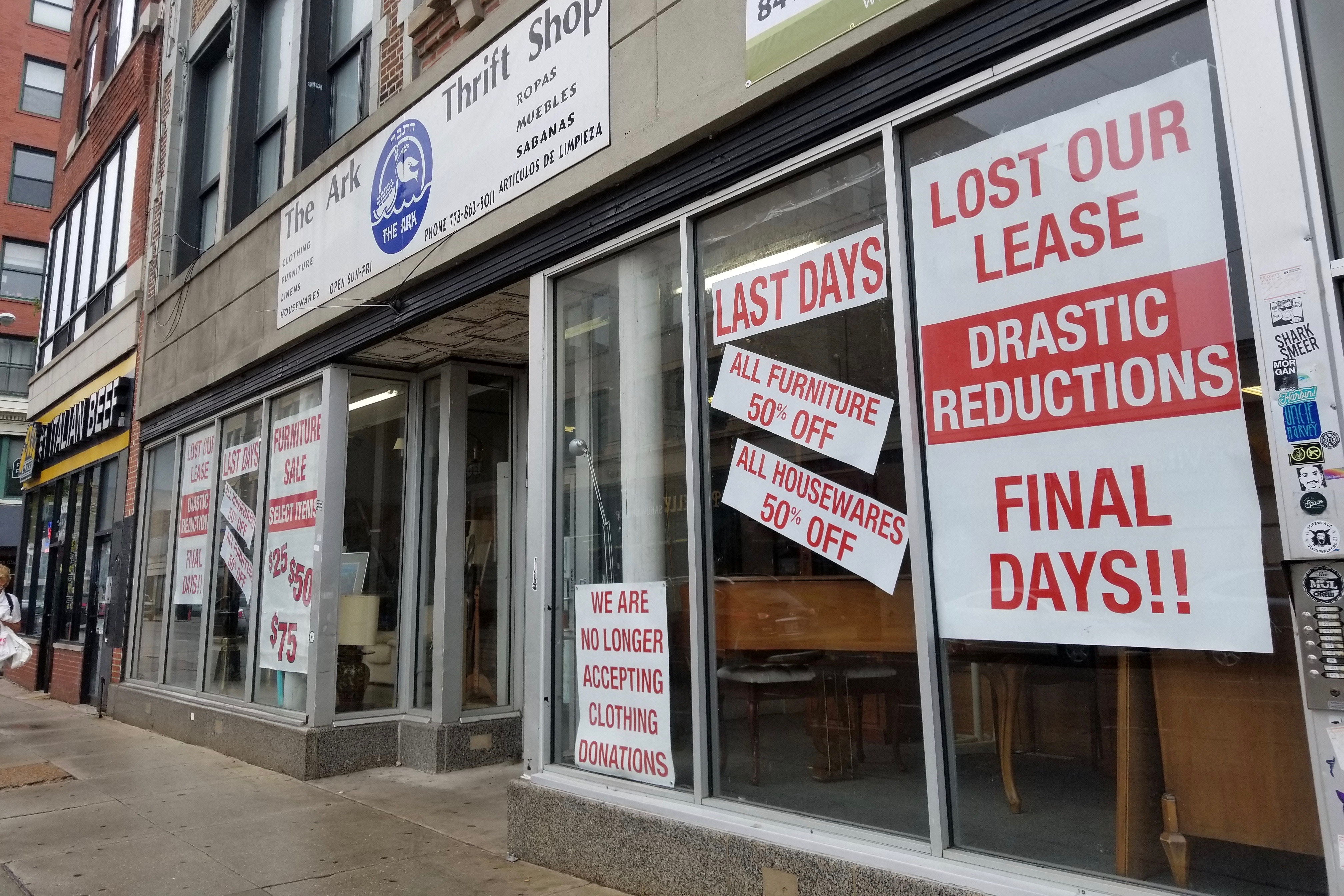 WICKER PARK — After years of dwindling profits,  The Ark Thrift Shop – a staple for used furniture and housewares in the neighborhood – is closing at the end of this month.
The 5,000 square-foot space at 1302 N. Milwaukee Ave. is currently for rent, according to a listing and broker Matthew Tarshis with Frontline Real Estate Partners.
Marc Swatez, executive director of The Ark, a West Rogers Park-based social service agency that has operated the Wicker Park thrift store since 1992, said nine full-time workers will be laid off and there are no plans to relocate the store.
"It is devastating to us that we have to close The Ark store because these workers are our family. We have offered to work with all the employees who will be let go. They can use our services as much as they need to… Most of these folks have been employees for 5 or 10 years," Swatez said.
Founded in 1971, The Ark is a social service agency and employs 50 people, Swatez said. The agency serves more than 4,500 people in need each year, providing counseling, access to a food pantry, legal services, a homeless shelter and a free pharmacy.
"There was a time when [the store] made up a significant portion of our revenue," Swatez said. "The reality is that for many years it has not been a significant portion of our revenue. Even though we don't pay for any of the [donated] things we sell, we are still losing money every month."
Swatez said that it was not the landlord's fault that The Ark is closing, but he did acknowledge that there would have been a rent increase if they had renewed the store's lease expiring at the end of June.
"The sign on the door says 'lost our lease,' but we could have renewed it. Rent always goes up. We had two great landlords and we don't want to throw them under the bus. They were great and offered to work with us but it is very difficult these days to make a profit as a thrift store," he said.
At the store on a recent Friday, Ina Winer, an employee of The Ark since 1992 and a familiar face behind the counter, said  regular customers are upset about the closure.
"The customers are so upset. Some have been coming here for years, and they wait for the truck to see [what the new goods coming in are]. I will miss everybody, the people, the workers. We are like a family," Winer said.
Winer is 92 and works full-time at The Ark. She does not wish to retire after the store closes.
"I'll find a job, even if it has to be a volunteer one somewhere. I like to keep busy, stay active," she said.
Alma Wieser, owner of Wicker Park's Heaven Gallery, said she was shopping at The Ark in April when she learned from workers that it would be closing.
"The Ark closing is another move toward inequality," Wieser said. "People with little disposable income could go there and buy affordable goods. I bought the most beautiful things there. Today, myself and another regular were saying how what we had on was all from The Ark. Now, it will just be another empty storefront to add to the pile."
Wieser also put up a post about The Ark on the gallery's Instagram. "Affordability and community is disappearing," she wrote.
At one point, Wicker Park was home to several resale shops, including The Brown Elephant, which closed its Wicker Park outpost at 1459 N. Milwaukee Ave. about a decade ago. There are many clothing thrift stores, but The Ark was a trusty source for housewares and furniture too.
Jimmy Seidenberg, the building's owner and The Ark's longtime landlord, lamented the store's departure, too.
"We're sad to see them go, too. The Ark has been with us more than 25 years," Seidenberg said.
All photos by Alisa Hauser.