AUBURN GRESHAM – Survivors of the Marjory Stoneman Douglas High School shooting in Parkland, Fl. will join youth activists from the South Side and Chicago celebrities Friday for St. Sabina's annual end of school year peace rally and march.

The 10th annual rally is scheduled to kick-off in front of St. Sabina, 1210 W. 78th Pl., at 7 p.m. The march is slated to travel south down Racine Ave. Several youth activists are scheduled to speak, including Emma Gonzalez, who survived the Parkland shooting and went on to become the face of a youth movement against guns. Chance The Rapper, Harold Green, Jennifer Hudson, Will.i.am and former Rep. Gabrielle Giffords, who survived an assassination attempt in 2011. 

St. Sabina Rev. Michael Pfleger said the rally is traditionally held on the last Friday of the year for Chicago Public School students to kick-off the summer.
Young St. Sabina's parishioners and survivors of the Parkland shooting met each other shortly after the rampage that left seventeen people dead in the typically quiet Florida town. The group discussed how gun violence on South and West sides of Chicago impact the daily lives of teens here, and how the now-famous Parkland teens can use their platforms to help all victims of gun violence.  
Pfleger said when his group invited the Florida teens to the annual peace march, the group was already planning a 20 city "Road To Change" tour , so  they decided to kick off the tour here.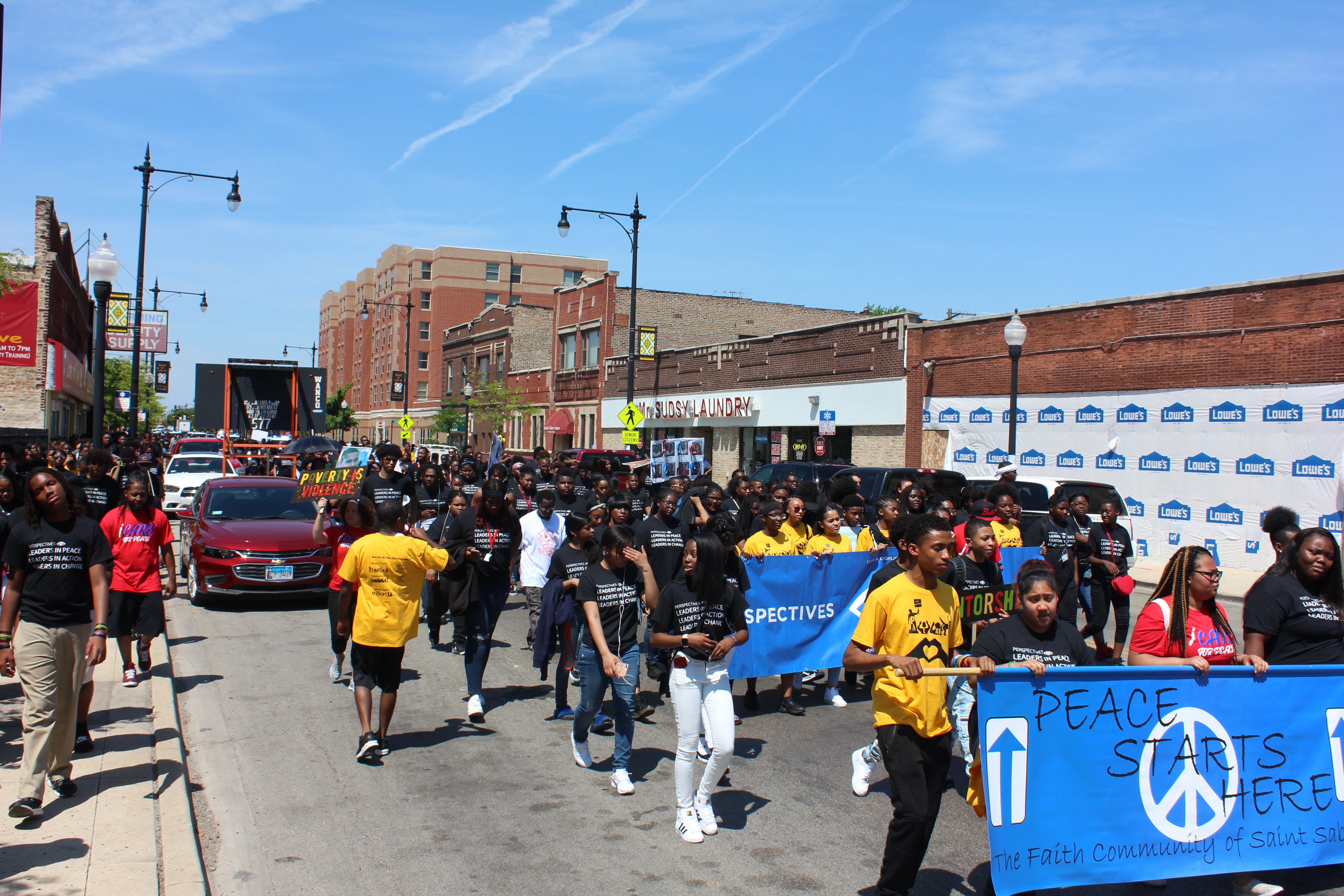 "The importance to us is that we unite young people fighting violence across the country," he said. "We got the Parkland kids from Florida. Here our coalition we put together is white kids from the North Side, black kids from the West and South Side, Hispanics kids from Brighton Park, so we've been putting together this coalition of young people and we are just trying to connect the dots from around the country with young people joining together in this force for change and safety for our children."

Pam Bosley, violence prevention manager for B.R.A.V.E (Bold Resistance Against Violence Everywhere), helped connect the Parkland teens to Chicago youth earlier this spring. Bosley's son was shot and killed in front of a church on the South Side more than a decade ago. 

"[B.R.A.V.E. youth leaders] got a chance to express to Emma [Gonzalez] and her group that they experience violence every single day, it's not just school shootings for them," she said.

B.R.A.V.E youth leaders led Parkland teens on a walking tour throughout the Auburn Gresham neighborhood a week prior to the March for Our Lives  demonstration in Washington, D.C. Pfleger said St. Sabina parishioners traveled to March for Our Lives on six buses.
Trevon Bosley, 19, an activist with B.R.A.V.E , said marches like these, and the one in May, are important to their movement. 

"The marches are to show the community that we care, we really care about you, we care about what's going on, and we care about the violence in our community," he said.

For more information about the rally or march visit https://www.thearkofstsabina.org/contact-us/.