CHICAGO— Rodents spark ire in many, but one artist wants to get the message out that rats should be fed, loved and welcomed in Chicago's neighborhoods.
Within an hour of Instagramming his 'Feed the Rats' poster, Logan Square-based artist Derek Erdman said he sold 50 copies— and he's making the artwork free to anyone who wants the file to print out themselves.
Erdman stapled his 'Feed the Rats' sign over an official city sign an alley in Logan Square.
"I put it in the alley by my house, we live on a corner and have the first garbage can on the street, so everybody puts their dog s–t bags in our garbage cans. It smells so bad there, especially in the humidity. So, a lot of those people will probably see the poster, but it looks just like the 'WARNING RATS' sign, so it'll be easy to ignore," he said.
Erdman added, "I didn't really mean it as a joke, I really do love the rats. I'll feel happiest if I see one of them later and somebody has filled the "name the rats" section out. I hope
everybody loves the rats."
He made six posters on his home printer but ordered about 2,500.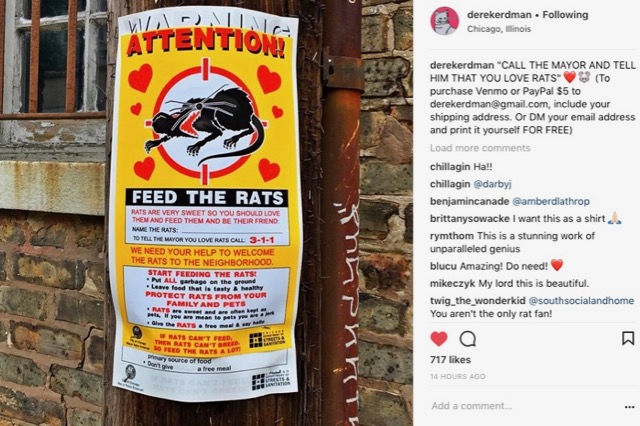 Along with the new rats poster, Erdman confirmed he's the mastermind behind the "eternally empty store front" poster that received a lot of buzz in Logan Square, where he posted it a few weeks ago on the window of the former Dunlay's. The poster sparked attention from Chicago's keyed-in Redditer community and Block Club reporter Mina Bloom tweeted about it as well.
"My girlfriend isn't crazy about being here and one of her main complaints is how many empty storefronts there are in Logan Square," Erdman said.

Erdman said he's been tagged on a few Instagram posts by people who suspected he was behind the "Eternally Empty Storefront" poster, but he has not fessed up to creating it until now.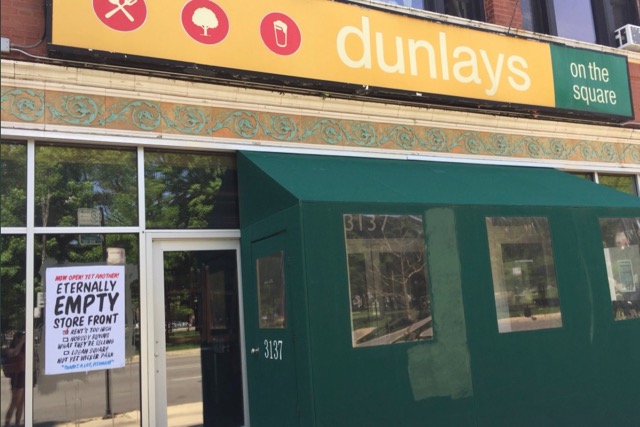 "I feel like street posters are best unsigned, so they could be by anybody. I wouldn't sign them, but I'd put them on social media for sure. I like the idea of mistaking them for a disgruntled citizen, somebody at the end of their rope. It really feels so desolate in Logan Square in places, and that was really depressing when I first arrived. But then I realized, you can get away with almost anything here," he said. 
Erdman lived in Chicago from 1997-2010 and moved to Seattle for seven years until he returned to Chicago last fall.
"One thing I have really loved about being back in Chicago is that it really feels like you can get away with doing so much stuff on the street. While some of it (tagging and stuff) isn't exactly noble, the social commentary stuff is from the heart," he said.