HUMBOLDT PARK —For the first time in many years, you can explore the Humboldt Park lagoon via an adorable swan paddle boat.
Wheel Fun Rentals recently started offering swan boat rentals at the park in partnership with the Chicago Park District.
The vendor currently has seven small swan boats available to rent, which can fit two adults and cost $11 per hour for each adult and $6 per hour for each child under 17 years old. But franchise owner Dwight Bratholt said 10 large swan boats, which can fit up to five adults, are coming soon. He said he expects to get them in before the Fourth of July.
It's not the first time swan boats have cruised Humboldt Park's lagoon, though it has been a long time, according to Bratholt. The operator believes the swan boats were last available for rent there sometime back in the 1980s or early 1990s, he said.
A spokesperson for the Chicago Park District confirmed that Wheel Fun Rentals recently started offering rentals, but couldn't immediately answer further questions on the history of swan boats at Humboldt Park.
Swan boats were a big attraction at Lincoln Park Zoo's South Pond for years before the zoo stopped offering them in 2011 ahead of a $12 million restoration.
Aside from swan boats, Humboldt Park dwellers can now rent kayaks, stand-up paddle boards and a few different types of bikes from Wheel Fun Rentals at the park. Surrey rides are also available. Wheel Fun Rentals, which rents recreational equipment across the country, has other Chicago outposts at North Avenue and Foster Avenue beaches.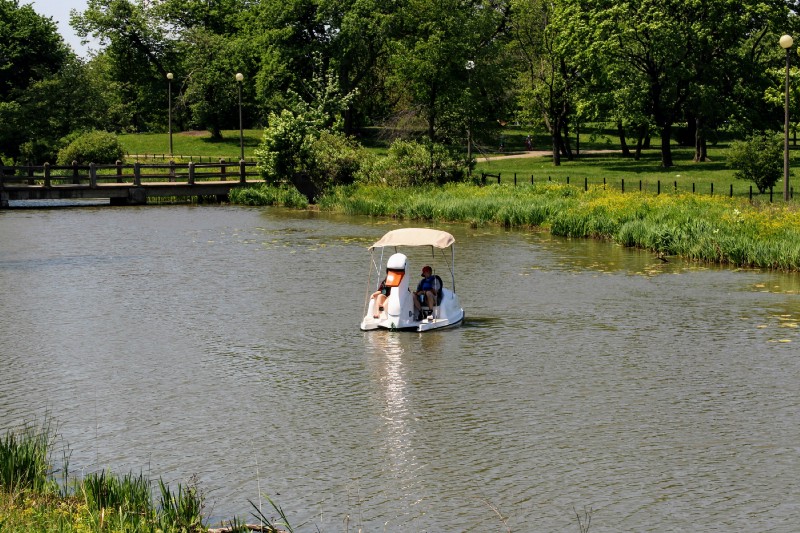 To Bratholt, his company's arrival in Humboldt Park is yet another symbol of the park's revitalization.
"A lot of people talk about the history of Humboldt Park, where it had been really bad for a number of years. A lot of energy and passion has revitalized the park, and [now people] are happy to see another amenity and something for families to do," he said.
For more information on rentals, visit Wheel Fun Rental's website. The swan boats are stationed next to the boat house.