WICKER PARK— Later this month, the husband-and-wife team behind Division Street staple Penelope's— known for offering functional and fashionable basics from local and international labels— will open a "twin" boutique next door.
Meet Gemini. She's in her infancy at 1911 W. Division St., across an alley and one door east from Penelope's, founded in 2002.
Over the past 16 years, Penelope's co-owners Jena Frey and Joe Lauer have weathered all kinds of changes — and mourned the loss of many independently-owned neighborhood shops like Porte Rouge, the storefront they're replacing with Gemini (which most recently was Unison).
Now that their two children are in school for full days, they have more time to devote to the expansion, which they've been thinking about for at least a few years.
After Unison closed in the fall, the couple reached out to the owner of the neighboring building, signed a lease in April and got the keys in mid-May.
"It's been very expedited; if we put a pen to paper and really thought about it, we might not have opened until fall. We were just eager to get it open. It's a new space, it's summer, the door is open and it's a fun time to be here shopping and we didn't want to wait," Lauer said.
Frey added, "We're excited! With Penelope's we were confined to one space for so long. It's nice to have more room and to be able to work with more people."
The couple wants its current customers and the people who've been coming into Penelope's for years to see Gemini as an expansion offering "more of what they love," as Frey puts it.
"But at the same time we aim for [each store] to have different personalities and different niches," Frey said. "If you've never been to Chicago, you might not know they're connected. You might just think, 'Oh, there's two cool stores next to each other.' So far, the signage out front has helped people to see that the stores are connected."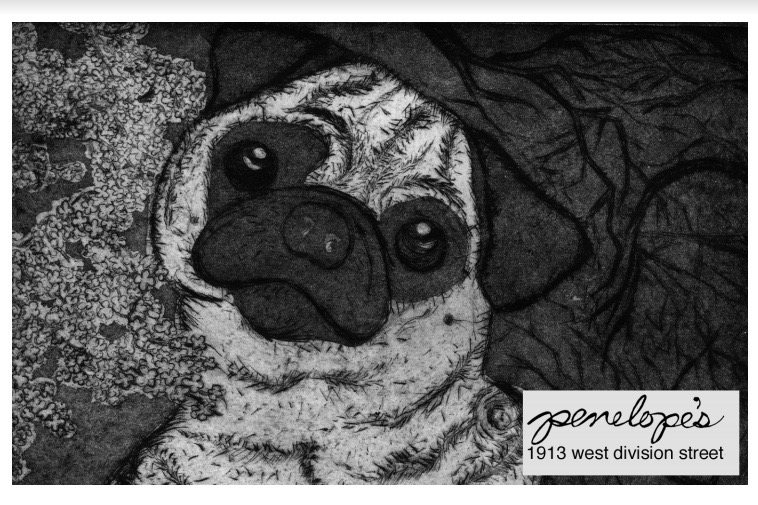 Penelope's was named for a pug who served as the beloved "shop dog" in the store's early years.
Gemini— astrologically the sign of the twin— draws its name from various inspirations.
"The fact Penelope's always has clothes for men and women reflecting both of us, there is a duality. And both of our children are Geminis along with our longtime on and off for 14 years sales lead Joe Proulx," Frey said. 
Provided the pending city licenses get approved, Gemini will "soft open" in the coming days and celebrate a grand opening weekend on June 24-25. Shoppers can sip Purple Monkey espresso and beer and get a free gift with every purchase.
Gemini will be focused mostly on apparel and accessories (men's and women's), and some of the brands will be brought over from Penelope's like French brand APC. Those labels will be supplemented with lots of new collections from Norse Projects (Denmark), Ace & Jig (Brooklyn) and Sessun (Southern France).
Some of the other key brands that Gemini will showcase include local favorites (Eye of the Sun, MEHA Ceramics, Shikama, Cities in Dust, Debbie Carlos); International men's (Portuguese Flannel, Gitman Vintage) and women's (Dusen Dusen).
"Gemini will focus on high-quality fabrics, great shapes, and sustainable production," Lauer said.
While Penelope's will still focus on everyday wear and apparel basics, it will expand offerings in stationery, gift and home goods, as well as add a kids and baby clothing selection.
Paper Doll was long known for being a stationary mainstay on Division Street, so Penelope's avoided carrying a wider range of cards and paper goods to avoid conflict. Since Paper Doll's shuttering last summer after a 17-year-run, shoppers have been asking for more paper goods, Frey said. 
At one point, Division Street also had more children's apparel boutiques, but now that the street is down to one (San Francisco-based Sprout), Penelope's will offer clothes for babies and kids too.
"We've been so lucky. The community has been so supportive of us and what we do for over 15 years, and with the new shop we aim to provide the people that live and shop in the neighborhood with two exciting, vital and fun venues to hang out and shop in," Lauer said.
Both stores are exactly 1,800 square-feet in similar looking vintage buildings with lots of natural light pouring in, and the storefronts will share the same workers as well as bring on a few new faces. The team will grow a part and full-time staff from 6 to 9 workers.
Gemini's hours will be the same as Penelope's, which is always open on Mondays unlike many shops traditionally closed on the first day of the work week. 
"A lot of our customers are restaurant and bar workers who have Monday off, so we've always stayed open for them," Lauer said.
Gemini's hours, once open, will be 11 a.m.- 7 p.m. Monday-Saturday; and 11 a.m.-6 p.m. Sunday.