WICKER PARK — Built for a prominent clothier and later carved into a Depression-era boarding house, an 1890s mansion in Wicker Park's historic Landmark District is being transformed to its original glory.
The 7,500 square-foot sandstone home at 2024 W. Pierce Ave. commands attention with a solid design, sturdy stonework and a wrought iron fence surrounding it.
Around the corner from the Damen Blue Line "L" station, the home was sold for $1.4 million in October 2016, six months and two price reductions after hitting the market.
"It needed a lot of work and was too much money [when it was first listed for $2.2 million] considering all that we would need to put into remodeling it," said co-owner Conor McCahill.
McCahill, an actor, created Instagram account @Bluelinereno to document the home's transformation from multi-unit to their single-family dream home. They're pumping $2 million into the renovation.
The gut rehab revealed treasures such as a century-old sour mash whiskey bottle ("not even a brand name, it just says extra fine and old on the bottle!" McCahill says), yellowed newspaper clippings and a still-full bottle of mercurochrome, a no longer used antiseptic containing mercury.
West Loop-based Mike Shively Architecture is overseeing the interior rehab that started in late fall and is slated to be a two-year project.
"The style of our firm is more open plan, a lot of natural light. And fortunately this home had a lot of windows; it's just that they were largely covered. It's not that we added a lot, we just really preserved what was originally here. And same with the floor plan. Our plan has large openings between rooms like the original. The home had been chopped up over time," Shively said.
From the mid-1970s until 2016, the home was carved into four apartments. The prior owner, John Anton, lived on the premises with his tenants for almost 40 years. Anton was apparently not a fan of natural light and painted over the windows in the master bedroom with black paint. A window that would've poured natural light over a grand and luxurious oak staircase had been covered by wooden boards.
The Pierce home is very much in the style of Henry Hobson Richardson, a turn-of-century architect who designed the Glessner home in the South Loop's Prairie District. Richardson, however, didn't design the Pierce house.
McCahill and Shively were unable to find out who the original architect of the home was but, in general, the Pierce Avenue home's architecture belongs to what Shively calls "a premodernist sort of time, where detailing was already starting to become clean and geometric and simple and not so fussy, like Victorian homes before that."
"It was a really interesting moment in architecture between really heavy historicism and the beginnings of open plan modernism," Shively said.
The man who might've had a preference for open plan modernism over stuffy Victorianism was clothing merchant Paul J. Benson, the home's original owner.
In 1894, Benson, a German immigrant, and his wife Catharine L. Benson, spent $10,000 to construct the home at what was then 21 Ewing Place (Pierce was named Ewing Place until the early 1900s).
When the Benson family, who had four children, were living in the home, the house next door at 23 W. Ewing Place was a sanitarium for women awaiting childbirth.
An advertisement for the Wicker Park Sanitarium published in 1898 in the defunct Inter Ocean says the facility offers the "latest scientific methods with strict antiseptic precautions" and claims it is "the most successful retreat in the city for ladies before and during confinement, or kindred peculiar ailments."
It's unclear when the sanitorium closed. Today the home next door is a modern condo building. The last published reference to the sanitarium was in 1899.
Benson was president of Benson & Rixon Co., a men's clothing store that he operated with his brother-in-law Albert W. Rixon. The company was founded in 1887 at Clybourn and Division Streets and later moved to 1301 N. Milwaukee Ave. in a now-demolished building.
Less than five years after living in the grand home on Pierce Avenue, Benson died of a heart attack at age 50 in 1899. A wake was held at the family's home. Benson is buried in Rosehill Cemetery in West Ridge. His death was noted in a Tribune roundup of notable deaths of 1899.
Paul Benson's oldest son, George, was 18 when his father died. George Benson helped to run Benson & Rixon's with his uncle, Albert W. Rixon, though Rixon was not part of the company for much longer and died at age 36 in 1902.
Under George Benson and his younger brother, Walter, the Benson & Rixon chain grew to multiple locations, including the flagship at 230 South State Street in The Loop, which opened in 1937 and is now home to the Chicago Federal Center plaza.
George Benson, Sr., "originated the idea of selling two pairs of trousers with each suit and the idea spread into a national institution," according to a 1946 Tribune obituary. He died from a heart attack at age 64 while sleeping in his Kenilworth home.
Catharine Benson was 42 when her husband died in 1899. She and her children continued to live in the home (daughter Ella was married in the Wicker Park home in June 1906). In 1907, Catharine Benson sold the home for $30,000 to Harry Keidel, who ran a real estate company, Keidel & Moran.
By 1916, a Dr. Mueller was living in the home and looking for both a chauffeur and a "girl" to do general housework, according to two different help wanted ads in the Tribune. Mueller seemed to have found luck with a chauffeur, though he placed similar housework ads seeking help in the home in 1917 and 1918, perhaps indicating a high turnover.
In 1922 another family was living in the mansion.
"Mrs. Agnes Nering dies after a brief illness" was the headline in the Nov. 3, 1922 edition of the Tribune.
Arguably the home's best known inhabitant, based on several newspaper stories featuring her, Nering died at age 46 in St. Mary's Hospital of pneumonia "after an illness of less than a week."
Agnes Nering ran a school out of the Pierce Avenue home she shared with her husband, John Nering, a telegraph manager. The school was named "Madam Agnes Nering School of Singing and Dancing."
Stationary bearing the school's letterhead was found by McCahill, who believes the third floor of the home had been converted into a ballroom since it features a large open floor plan and likely is the only logical spot for a dance floor at the Nering School of Singing and Dancing. 
Anton told McCahill and McCahill's fiance there were hardwood floor on all the floors and just pine boards on the third floor when he bought the home in the 1970s. 
A Nov. 29, 1909 Tribune story featuring Agnes Nering said the talented soprano performed the prison scene from Verde's "Don Carlo" opera in five languages at a benefit for Polish Charities at St. Stanislaus Church in Noble Square.
Agnes Nering was known for her church and charitable work and had studied music abroad. She'd been teaching music and classical dancing in Chicago from 1913 until her death in 1922.
The home was sold in 1926 to its third owner since the Bensons. That owner, according to McCahill, turned it into a multi-unit building rather than a single-family home.
Pierce Avenue Murder
During the Great Depression, which started with the stock market crash on Oct. 29, 1929 and lasted until 1939, some 15 million Americans were out of work.
That's when the mansion became a boarding house with 12 rooms.
"It was a quite fashionable area to live in in the 1890s and a lot of stuff went downhill in the Depression," the prior owner John Anton said in a recorded interview with McCahill.
On July, 1, 1934, there was a murder in front of 2024 W. Pierce Ave., according to a Tribune report.
Grocers Henry and Della Mandelbaum were walking home from their delicatessen at 1649 N. Damen Ave. (later called Kenar's Grocery & Meats and then Midwest Grocery Store), when shortly after midnight they were held up by two men.
Too slow in raising his hands during a holdup, Henry Mandelbaum was shot twice in the stomach and taken to St. Elizabeth Hospital where on July 2 he "died from wounds inflicted by bullets from two bandits," reports said. He was 45.
The Mandelbaums lived nearby at 2031 W. Pierce Ave. in an apartment building that was later torn down and replaced by condos.
The case likely got so much media attention because police happened to have been in the area at the time of the shooting and were able to chase down and arrest one of the two fleeing bandits.
In a story headlined "Bandit Shoots Grocer, Police Nab Him," police were were "cruising in the vicinity of Damen and Pierce avenues" and captured George Gross, of 2628 W. Haddon Ave., after hearing a gunshot and seeing a man running. Though he was bleeding to death, Mandelbaum was able to identify Gross as the accomplice to the man who'd shot him.
Gross later "betrayed his accomplice" Chester Novak and for doing so, got a 99-year sentence instead of execution.
Novak was executed in the county electric chair at Cook County Jail at 12:12 a.m. on March 31. The 30-year-old Novak said as he was walking to the chair, "I wouldn't trade places for a million dollars with George Gross."
A World War II Vet Follows Dream, More Crime
Another snapshot of the mansion's history can be gleaned from a 1945 Tribune column.
In the column called "Inquiring Camera Girl" by Maryon Zylstra featuring soldiers recovering at Vaughan General Hospital for Veterans in Maywood, Zylstra asked,"When our servicemen return, what kind of conversation do they enjoy most?"
A resident of the Pierce mansion, Pvt. Charles Arduza, then 24, said, "I have been married for four years and I like to talk about plans for the future. I want to get ahead and go into my own business. My wife and I have long conversations about it. We plan to have children and our own home someday and believe me it's not just talk either."
Arduza followed his dreams. Arduza's wife was Ruth Dispenet, according to Ancestry.com records. He went on to be a carpenter after recovering from the war, relocating to Phoenix in 1947. The couple owned a mobile home community, Rancho Trailer Court in Phoenix, Arizona. He and Ruth had two children. Arduza died in 1971 at age 52.
By 1958, crime was so bad in the area bounded by Pierce, Hoyne, Le Moyne and Leavitt that 350 residents petitioned the mayor for more police protection after a blind girl in the 2100 block of West Pierce Avenue was robbed of her Braille watch.
According to Tribune Nov. 20, 1958 story,"Police Vow Aid in Wicker Park Crime Battle," Capt. John J. McCarthy responded by adding a three-wheel motorcycle, a squad car and a foot officer to patrol the area.
McCarthy said that the police averaged two to five arrests of "drunks and bums" a night near the elevated North Avenue "L" station but lamented the fact "the court lets them go and they find their way back into the neighborhood."
One of the residents of the home at 2024 W. Pierce Ave. during this era was Edward Ignatius Leonard, who left behind his Social Security card and release papers from Illinois State Penitentiary, where he served a 19-month sentence for armed robbery.
Leonard was imprisoned on January 7, 1947, and released on October 6, 1948. It's unclear when he lived in the home but McCahill believes it was sometime after Leonard's prison sentence in the late 1940s or early 1950s.
On July 15, 1967, then living in Manteno, Leonard lost control of a car he was driving on a highway in Bourbonnais and "plunged down a steep embankment," a coroner wrote. He died a day later from his injuries at age 45. There was an unnamed passenger with him who was also ejected from the car but did not die.
Leonard worked as an institution worker as a state hospital and was divorced, according to his death certificate. His sister who lived in Evergreen Park arranged her brother's burial.
In the late 1960s and early 1970s, the home continued to be a boarding house.
The owner of the boarding house was Stanislaw Wolf, who bought the building in 1968.
Numerous Tribune ads from 1969 lists sleeping rooms for rent, for "a man only," at the cost of $11 a week. The rate for a bedroom in 2024 W. Pierce Ave. went up to $13 per week by 1970 and three rooms together were available for $25 per week.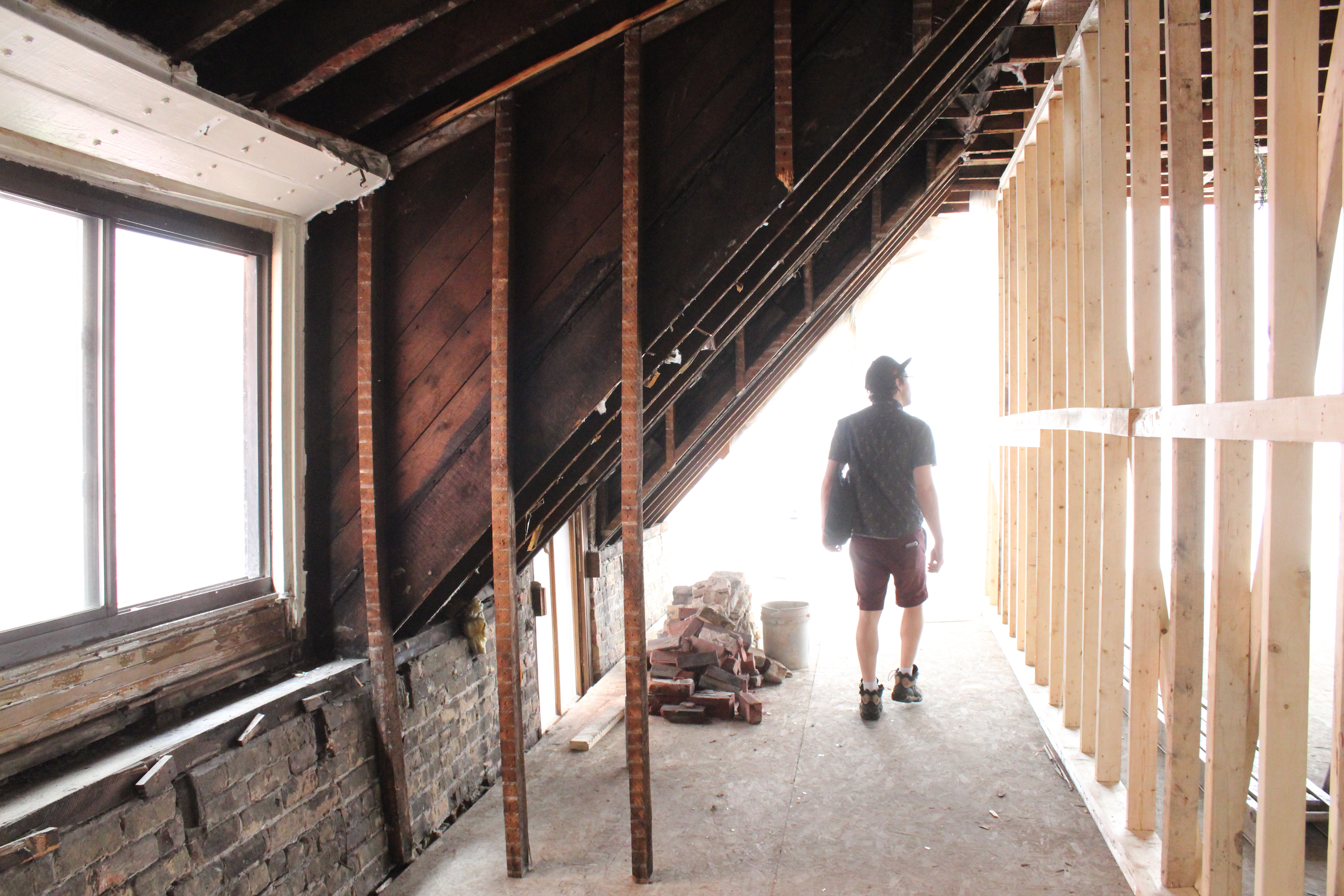 The Home's Longest Owner
In 1975, the home was sold for $39,000 to John Anton, who lived there for 41 years, the longest of anyone over the home's 124-year history. In the recorded interview with McCahill, Anton said he and his then girlfriend were looking for real estate, initially in Lincoln Park.
"Things were snapped up real quick by DePaul University. An ad [his girlfriend] saw in the newspaper in 1975 said 'Wicker Park Mansion for sale' and I thought oh, that could be cool," Anton said.
Anton, who lived on the premises after buying the home, said most of his tenants were first generation Polish immigrants. There was a communal kitchen and shared bathrooms.
"Everyone had their little room. Everyone mostly kept to themselves. There were 8 people on the second floor, the third floor at that time was empty," Anton said.
In the late 1970s and 80s, Anton said Wicker Park was gritty and dangerous: "There were a lot of drugs on the streets; people were lying around on the sidewalks and passed out."
Anton said the Busy Bee diner, a neighborhood anchor next to the Damen "L" station, served very good inexpensive home cooked meals. "All the cops would eat at Busy Bee, making it the safest place in the neighborhood," he recalled.
Double Door, then a liquor store bar hybrid and not yet a music venue, was "a real hillbilly bar" by Anton's account. Further memories include several little grocery stores around the neighborhood and an ice cream parlor where The Violet Hour is today.
Anton, who relocated to the North side, feels good about the new owners and his longtime home's next chapter.
"You guys seem to appreciate it, as long as it's going to someone who appreciates it, I feel good. I was very naive when I bought this place. I was young and bulletproof and could do anything. It's been a lot of fun in a lot of ways, but a lot of headaches. You are coming in with a little more money and the ability and resources to do it right. Go for it," he tells McCahill in the recorded interview.