EAST GARFIELD PARK — "Esta tierra es para todos," David Ortiz writes in chalk across a slab of concrete in front of Westinghouse College Prep.
The 17-year-old senior said he wants to make sure people, documented or not, feel welcome.
"It doesn't matter where you're from, I believe the ground we stand on belongs to everyone," the senior said.
"Love has no borders," "We are all DREAMers," and "There are no illegals on stolen land" were among the phrases of encouragement and support displayed in Spanish along one of the school's entrances.
Ortiz, and nearly 85 students at the East Garfield Park school, used chalk to show their support for "DREAMers" as part of a lesson on immigration in their Spanish classes.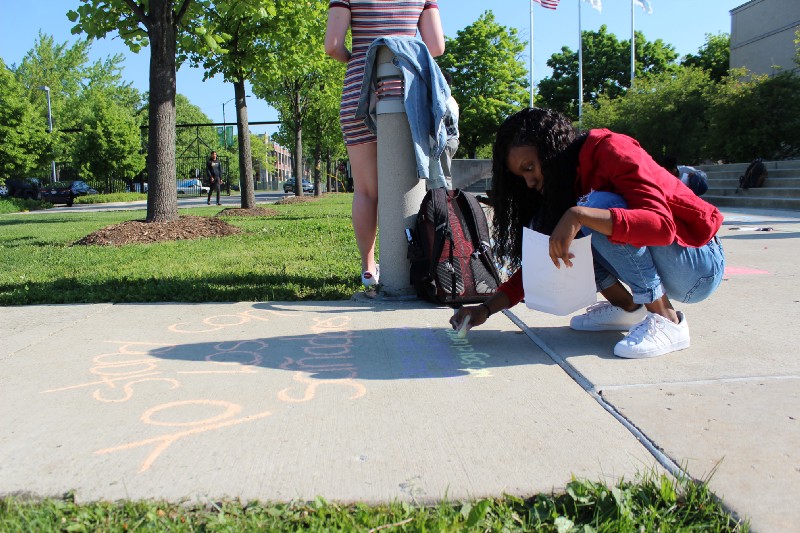 Inspired by the national dialogue around immigration, Spanish teacher Anne Prendergast developed a seven-week unit focused on the issue. The curriculum delves into the DREAM Act, learning who dreamers are, their rights and limitations, and how the legislation impacts their classmates.
"I realized there was a real need for this," Prendergast said. "It was a real opportunity for our mostly non-Latino students who are learning Spanish understand what's going on in our community — in our school — and the issues facing our students here."
As part of the unit, students hear from an immigration attorney and graduating seniors who are dreamers.
"Last year, we did it and it was extremely successful," she said. "I think that was the most powerful part of it. They got to hear about their classmates lives, and how they maneuver differently because of their situation, and government regulations.
Prendergast said she aims to create empathetic learners and global citizens who understand what's going on in the world around them. She included the chalking exercise to bring the issue to the forefront among the Westinghouse College Prep community.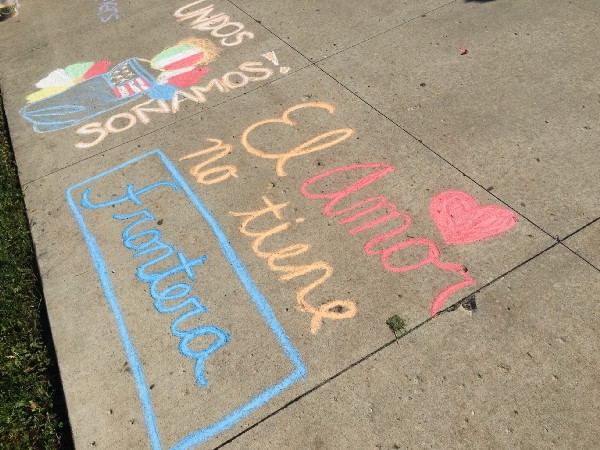 "I figured if we can take our message to a bigger audience within the school at least that would make our student body feel more included — our DREAMers especially, and hopefully we'll have other people in the school read up, question and start a conversation around these issues."
Last fall, President Donald Trump rescinded protections offered to dreamers through the Deferred Action for Childhood Arrivals, or DACA, created during the Obama presidency. The program protected some young immigrants brought to the country as children from deportation. Now, DREAMers across the country face an uncertain future.
Alaya Burton, 16, writes "Los descendientes de los inmigrantes tienen miedo de los inmigrantes."
"The descendants of immigrants are scared of immigrants" the junior translates. "This country was overtaken by immigrants, and today they are trying to stop immigrants from coming in, which is ironic to me."
She said she's been aware of the horrors some immigrants face fleeing their home countries, but said the unit allowed her to learn more about the policies affecting immigrants here in the states.
"I hope other students will see these messages and feel sympathy or empathy for people escaping their countries, and have an open, welcoming heart."
Junior Alaysia Hall chalks the side walk expressing her support for dreamers. (Photo: Mauricio Peña/Block Club Chicago)
Her classmate Tamia McNutt, 17, used different colored chalk to write, "Yo apoyo el acto de sueño," (I support the DREAM Act), accompanied with an American flag: Remember November. Vote"
The junior said diving into the unit has opened her eyes and her desire to learn more about immigration legislation and the impact it's having on some of the students at the school, across Chicago and the country.
"I'm not of Spanish decent but I think it's important that we get the message out and show our support," she said.
"Today, we make change!" McNutt shouts to her classmates as class winds down.
Westinghouse College Prep parent Patricia Martinez, 57, walked around reading the messages sprawled along the sidewalk inside the gates of the East Garfield Park campus.
"These kids understand and care about the struggles and worries that dreamers and many immigrants face everyday," Martinez said.
She said the words of support and encouragement are an important message to disseminate within the Westinghouse community.
"It's beautiful to see they are learning and getting involved in an issue impacting so many people across the country," she added.
"We are all dreamers — every parent is a dreamer," Martinez said. "We are all immigrants. We all have dreams for our children to achieve their goals in the present and in the future."