WICKER PARK— Chicago's longest standing all-girls Catholic high school, Josephinum Academy in Wicker Park, will allow organized recreational sports teams to use its new Cubs-funded softball field when the field is not in use by students.
"With this newly renovated softball field, our players and our community will be able to share their love of the game," said Patti Tuomey, president of Josephinum Academy, 1501 N. Oakley Blvd. A ribbon-cutting ceremony for the field last Tuesday included a surprise visit from Cubs pitcher Jose Quintano.
Last Saturday several of the school's students celebrated the new amenity during a Jo Jamboree, which offered a co-ed sport clinic led by the professional women's softball team Chicago Bandits.
Due to rain, the drills with Chicago Bandits players Jourdan Skirha, Carlie Weaver and Alex Flasch and about a half dozen youths were held in the school's gym instead of on the new field.
"We're going to do throwing drills, fielding and go over hitting. We like to make it fun. It motivates the girls to know there is a professional league and we want more girls at the high school level to know who the Bandits are," said middle infielder Jourdan Skirhar before the drills kicked off. 
A $90,000 Diamond Project Grant from Chicago Cubs Charities helped fund the field, which cost $200,000, according to a school spokeswoman. It was the first time the Cubs Charities awarded the sought-after grant to an all-girls school. Cubs Charities Board Chairwoman Laura Ricketts told ABC7   that the grant the girls school aimed to even the playing field, both literally and figuratively.
Additional field donors include the Big Shoulders Fund, Sue and Tim Sullivan, Scott Byron & Co., American National Sprinkler & Lighting and donors who attended Josephinum's scholarship gala in September.
"Chicago is only as good as its great institutions. Since 1890, Josephinum has been right here building social cohesion and making this neighborhood stronger and stronger," Josh Hale, president and CEO of Big Shoulders said in a statement provided by the school.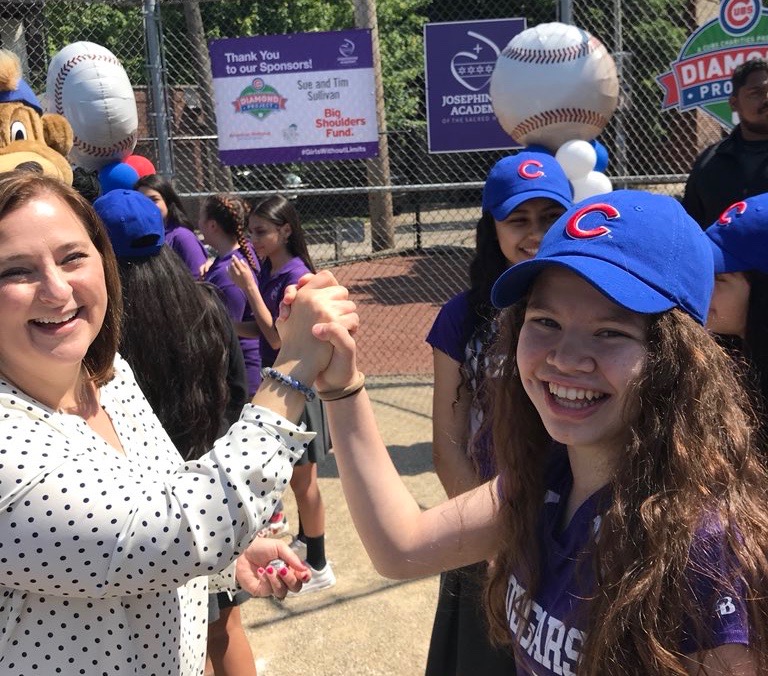 Prior to its opening, students used the field but it was not in good condition. For years, the large open field just south of North and Oakley was somewhat of an unofficial dog park after school hours.
When recently graduated senior Sophia Torres, a co-captain of Josephinum softball team and a Bucktown resident, moved from Miami to Chicago during her freshman year, she said she was not excited to go to a big high school in an unfamiliar city.
"I liked the small community of students here and the sisterhood that comes with an all-girls education," Torres told DNAinfo this past fall.
Josephinum's new softball field will be available for rental by organized athletic programs beginning July 15. For more information, call Josephinum Academy at 773–292–3964 ext. 248.