WICKER PARK — Alds. Joe Moreno, Brian Hopkins and Scott Waguespack, whose 1st, 2nd and 32nd wards cover Wicker Park and Bucktown, answered hard-hitting questions from local business owners during "State of the Wards" on Thursday.
Organized by the Wicker Park Bucktown Chamber of Commerce, about 50 chamber members and Executive Director Pamela Maas gathered at Goddess and Grocer, 1649 N. Damen Ave.
Listen and check out more highlights from the meeting below.
Lincoln Yards' Live Nation-Tied Venues Create Unfair Playing Field, Business Owner Says
Robert Gomez, owner of Subterranean, a music venue at 2011 W. North Ave., expressed concerns about the impact a proposed new entertainment district in 'Lincoln Yards' at the former A. Finkl & Sons steel plant would have on the city's existing venues.
"I can handle competition, we've been around a long time. What I can't handle is the city funding and backing Live Nation to have exclusive rights to venues that are being built on their behalf. Now that [plans and renderings published by Crain's] doesn't get out there by accident, these people are making way too much money and have too much money behind them to just accidentally release that. It's a test of the pulse of the city, I get that. Where do we go from here? What's the advice on how we respond to that?" Gomez asked the aldermen.
Hopkins said that the Lincoln Yards plan needs to be formally introduced, and vetted through a community process. No venue plan is set in stone, he said.
After the meeting, Gomez said he was not satisfied with Hopkins' response.
"What he is trying to sell us on is 'believe in the process,' but that's all done Downtown, and what they decide down there is what happens. The rest of it is just for show," Gomez said. "As venue owners we are collectively in conversation about this; it is now directly targeted at our livelihood and we will act. Just about every major operator with a capacity of over 200 has been looped into this conversation."
Lincoln Yards Not Ready For Public Input
Hopkins said he has not made a decision on whether he supports Lincoln Yards. Sterling Bay leaders aim to present plans for the massive project to the public in the next 30 days, he said.
"There is a lot of skepticism surrounding this process. People don't have a lot of faith in government anymore. I keep hearing the words 'done deal' and that's disturbing to me," Hopkins said. "I need people to believe that they can have an impact on this."
I keep hearing the words 'done deal' and that's disturbing to me." — Ald. Brian Hopkins on Lincoln Yards
If everything goes as planned, the development of the industrial land at the border of Lincoln Park and Bucktown would create a new riverside neighborhood with restaurants, hotels, up to five music venues and a soccer stadium. The plan also calls for a long-discussed extension of the elevated '606' path over the river.
Pause Transit-Orientated Developments At Tipping Point: Alderman
Wicker Park is "ground zero" for a crop of higher density developments that have sprouted up along Milwaukee Avenue, Moreno said. After listening to concerns from Wicker Park Committee members, he said it's time to "hit the pause button."
Moreno said the impact of new units on the already congested Blue Line CTA trains needs to be analyzed through a year-long study before any new projects get started.
Moreno later clarified the pause button would not apply to any already vetted proposals that have been discussed at public meetings.
"I deferred the one on Division [Street] and told the developer he needs to go back and look at reductions," Moreno said.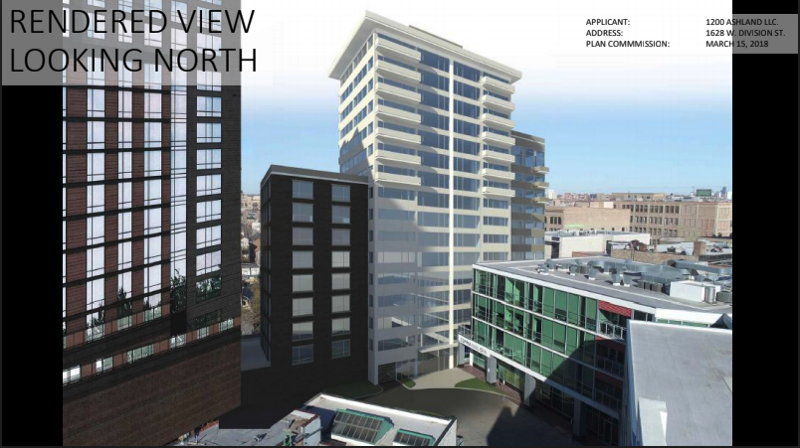 Divided Reactions To Protected Bike Lanes
Meanwhile, all three aldermen contributed money from ward menu funds to pay for ongoing traffic improvements along the Milwaukee Avenue corridor. The money was matched by the Chicago Department of Transportation, which is one year into a 3-year 'Vision Zero' Action Plan to make the streets safer.
"Some of these new ideas are going to be upsetting but if you look back they do have a good impact. The fact we are cutting off some of the right turns and are trying to get people, as they are driving, to focus more on the pedestrians and the cyclists, it will have a much greater safety impact in years to come," Waguespack said.
In response to a question from a reader on Twitter, who asked if parking lanes could be removed in some cases to make room for bike lanes, Moreno said there is no money right now to do that and "it's not even on the table."
"It's tough on Milwaukee. I've said before I would totally support a protected bike lane. Milwaukee Avenue is difficult because of its [narrow] width. With the question of 'do you want to remove parking,' some are advocating absolutely no, others are advocating absolutely yes. I personally think a protected bike lane would be excellent for Milwaukee Avenue but the parking has to be looked at. There has been no decision made. That's going to be a continued conversation," Moreno said.